Hey family,
Hope you're staying safe and staying sane. Here's some of the stuff around the web from this past week that was time well spent.
Something that Inspired Us: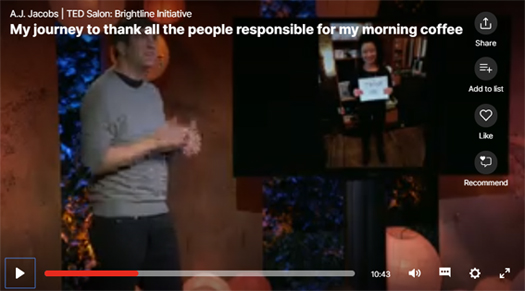 Have you ever really thought or meditated on how complex something as simple as your morning cup of coffee truly is? This TED speaker went on a journey to thank as many people as possible who had something to do with getting him a cup of coffee, from the bean farmers to the road painters to… I don't want to spoil it. Spend the 15 minutes and watch this video all about gratitude. :)
Design/Materials/Innovation: 
The Bronco is back! Say what you want about Ford but this baby is a sweet ride and Bronco-enthusiasts won't need to hunt for vintage models in need of a little TLC any longer. It's finally releasing again next year, and the backstory around the design team who fought for two decades to bring it back is a great read.
Something that Blew Our Minds:
It's cliche but still true: when life gives you lemons, make lemonade. This adventure photographer found her calendar completely emptied by the pandemic (who else feels that?) and decided to create a bunch of indoor adventure scenes to shoot instead. They came out amazing. Such talent!
It really feels like time is a meaningless void at this point, but hey, it's still almost the weekend, right?

★★★★★
"I bought the Stealth and it is everything I hoped it would be.
Buy with confidence."
Bill K.  

(✔ Verified Buyer)
 
GET YOURS NOW
★★★★★ 1,100+ Reviews